Human Hair Wig Washing FAQs
CAN YOU WASH A HUMAN HAIR WIG WITH REGULAR SHAMPOO?
Human hair wigs can be washed with regular shampoo but it's recommended you use products formulated for color treated hair. Keep in mind human hair has been chemically treated and unlike our own hair, it is not moisturized naturally. Avoid using clarifying shampoos as these are designed to strip buildup and oils from the hair and will cause dryness.

CAN I WASH MY HUMAN HAIR WIG WITH HOT WATER?
When washing any wig, it's best to use lukewarm water. What is lukewarm water? It doesn't really have to be a specific temperature but it's not good to use cold water and also not good to use hot water. Hot water can dry out the hair and although cold water doesn't damage, it does make it harder to rinse out shampoo and any product you apply to the hair. Trying to stay at a medium temperature is best - not too hot and not too cold.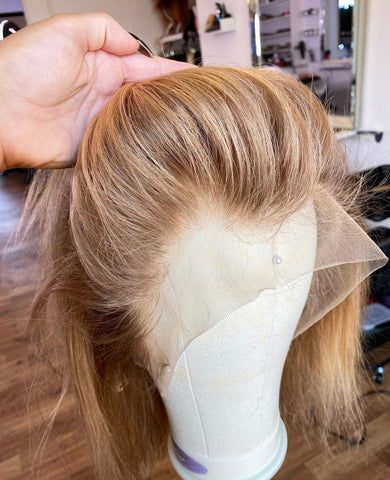 Should I Wash My Human Hair Wig Before Wearing it?
To get the best results, you should shampoo and condition your human hair wigs before you style and wear them. Human hair typically arrives with a conditioner that coats the hair and is used to preserve the style and retain moisture while it's stocked and during shipment. If this coating is not washed off, you will have a harder time getting the style to hold and directing the hair.

If you simply want to make sure you like the style or cut, you can mist the hair with water and just blow dry the front and top. Once you know you like it and plan to wear it out, shampoo and conditioner first. Heat-styling vs air drying is highly recommended.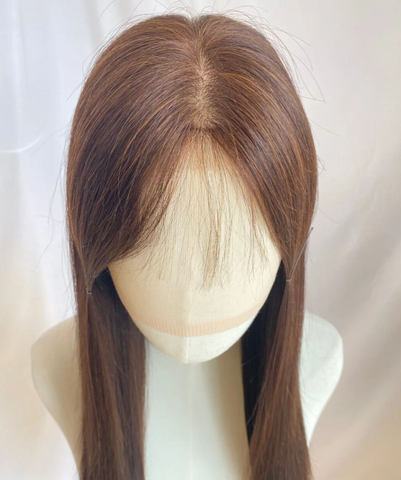 For air drying, you can create the part and smooth the top, then let it dry lying flat on a towel or on a folding wig stand that allows air to circulate. If you're traveling, use the box and hair net your wig comes with and just plan on touching it up before you wear it. You can also store your wigs inside out and in a plastic baggy. It's good to place the hair net over the hair left out of the cap and remove excess air before sealing the bag. This type of storing will not preserve the hair style so be prepared to wet and style or wash and style before wearing.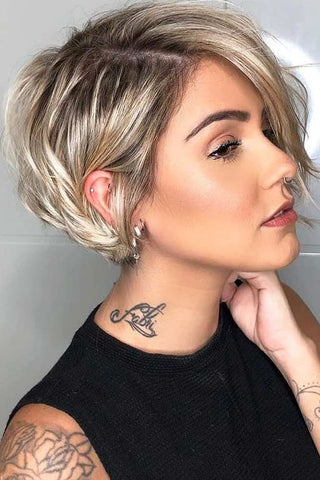 Heat-styling smooths the cuticle making it look and feel softer. If you plan on taking your human hair wig or hairpiece to a stylist to color, be sure to remind them it must be washed first. The coating will affect how color absorbs and should always be washed prior to chemically treating. A good indicator that it's time to wash your wig is if the hair appears dull or lifeless. If you move but the hair doesn't, it's time to wash. You can extend the time in between washes by using dry shampoo at the root and base and touching up the style with heat.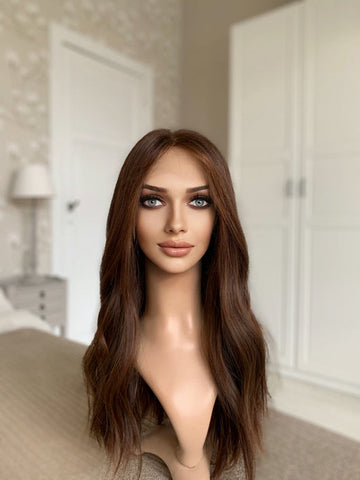 How Often Should I Wash My Human Hair Wig?
We recommend washing and conditioning every 6-8 wears. It's good to apply a deep conditioner every other wash since human hair needs added moisture. It's very important to only apply a conditioner from the mid-shaft to ends. Always avoid applying conditioner to the base or cap as this can affect the integrity and cause shedding. Use products made for color treated human hair and follow manufacturer instructions when using a deep conditioner or treatment.

It is recommended to use hair oils and serums on the ends and spray a heat protectant all over before blow drying and heat-styling. Use your discretion and if your wig needs to be washed more often or less often, you can adjust your routine. Sometimes simply touching up the hair with curling iron or flat iron in between washes works wonders.

PREPARING TO WASH YOUR HUMAN HAIR WIG
Gently remove tangles with fingers or a wide-tooth comb. Start at the ends and slowly work toward the roots to avoid damage. Do not brush.

WASH
Do not soak or submerge product. Rinse by holding the hair under running cool water. Allow the water to run from roots to ends.

Place a small amount of shampoo for color-treated hair in your hand, evenly and gently stroke it through the hair in a downwards motion from the roots to the ends. Here is our recommend shampoo by HairUWear.

Rinse by holding under running cool water until the water runs clear. Gently squeeze to press out excess water. Do not twist or wring.

CONDITION
Place a small amount of conditioner for color-treated hair in your hand, evenly and gently work it through the hair in a downwards motion from the mid-shaft down to the ends avoiding the base and root. Applying conditioner to the base may cause shedding. Here is our recommended conditioner by HairUWear.

Leave conditioner on for 1-2 minutes or follow the conditioner manufacturer's instructions. Do not exceed 3-5 minutes.

Rinse by holding under running cool water until the water runs clear. Gently squeeze or use a clean, dry towel to press out excess water. Do not twist or wring.

Place wet wig on a wig stand until it is completely dry. Finger styling is recommended.
STORING YOUR HUMAN HAIR WIG
The great thing about a wig or hairpiece is that after you spend time styling it and getting it perfect, you can store it and preserve your work. If you're storing a styled wig and you want to keep it pristine, use a Styrofoam head, a folding stand or a canvas block. These options all keep the wig upright and undisturbed.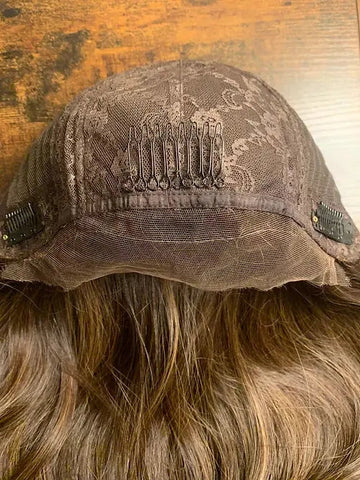 Tips & Tricks

Wash or rinse all human hair products and style before wearing. Human hair is not ready to wear out of the box.

Rinsing with hot water will damage the cap and can cause the hair to become dry.

Do not dry on a solid form or mannequin head to avoid stretching the cap.

We do not recommend sleeping, showering or swimming while wearing the wig.

Store the wig on a wig stand to avoid unwanted kinks or crimps.

Lace is delicate and should not be tugged or pulled.

Avoid brushing the hair when wet to prevent damage.

Any cutting or chemical processes, such as perming or coloring, should be done by a professional hair stylist. We do not recommend lifting or bleaching human hair; depositing color provides the best result.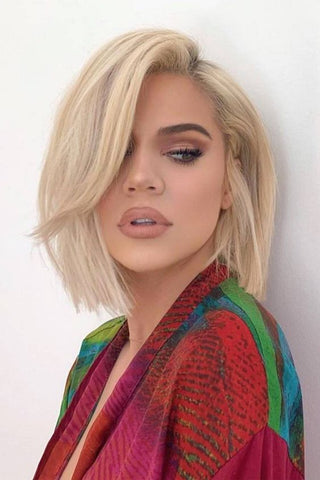 WHICH OIL IS BEST FOR HUMAN HAIR WIGS?
Human hair ends love added moisture and oils or serums. Human hair ends are subject to the most damage to adding a little extra care is really good. If you stick with salon worthy or high end moisturizers you should see really good results. Argon oil, Jojoba oil, Coconut oil, and Olive oil are the most commonly used and great for human hair wigs. Look for those ingredients when selecting a moisturizing hair oil or cream. As with conditioner, avoid placing it at the root or base of the wig.