The Truth About Going Blonde 
Blondes might have more fun, but there is a price to pay for beautiful hair. Here's the breakdown...
Going from Brunette to Blonde is not an easy process. A lot of clients think it can just be done in one visit, by putting one color all over the hair, simple as that...but that's not the case. It takes skill, patience, confidence, experience, a colorist who knows her stuff, and a client who is cool, calm and collected through the many stages of blonding. In this post we will talk about wheather you're the right candidate for becoming a blonde, how to get there, and how to keep it looking good afterwards.
Are you ready for this?
First things first. You need to ask yourself if you're ready to be a part of a Blondetourage. Lets talk about what it entails to become a blonde.
Damage- Going lighter calls for some type of damage to your hair. If you have box color, or any type of color at all on your hair when going blonde, your stylist WILL HAVE to use bleach. There is no other way to lighten hair with color on it. Color does not lift color out of hair. End of story. This is why it's important to gradually lighten your hair when going from one extreme to the other. If your hair is already severely damaged, you need to ask yourself, and your stylist if its in your best interest to go lighter. I've had to ask clients several times, would you rather have healthy, shiny hair or dull, damaged hair? If your stylist (or several stylists) tells you it's not in your best interest to go lighter, PLEASE trust them. You will find some stylist out there that WILL lighten your hair, however, it will probably cause damage or in worst cases, break off. I'm not saying that you can't ever go light. If your hair is healthy, and the lightening process is done correctly and slowly, you can safely go lighter with your hair over time. But even then, there will most likely be some sort of minimal damage to your hair.
Time- Going from dark to light takes several appointments, and normally several hours at a time. Plan to be in the salon every 4-6 weeks to start with, and plan to spend several hours in the salon with each visit. No stylist should try to take your hair from a very dark color, to light in one session. (I will talk about the process in a bit) In fact, I have turned clients away that would just not listen to me when I said I couldn't take them from dark brown to blonde in one session. If you're planning on going light, make sure you tell your salon beforehand so they can schedule enough time for you. If you're a new client, go in for a consultation first, or tell the receptionist your current color is dark and you're wanting to go blonde.
Patience- Like I stated above, it takes time to get to the desired blonde of your choice. Be patient with your stylist, when going lighter and understand that you might have to live with a color that is "in between" what you're hoping to achieve for a few weeks. Dark hair is naturally going to lift to warmer tones, especially if it has old box color on it, so you are most likely not going to be an "ash" blonde until you're closer to the lightest blonde shade. However, it should still be a pretty color in the process.
Money- Being blonde isn't cheap, it is a higher maintenance lifestyle, not suited for everyone. If your going from brunette to blonde, you will need several appointments for full highlights about every 4-6 weeks, until your desired color is achieved. Once you've reached your desired color, you will need to come in for touch ups or a base break every 5-10 weeks depending on the contrast in your natural color vs your blonde. At this point, you can get by with just doing a partial highlight, and a full every few times, which is less expensive. You will also need to invest in good products to keep your blonde looking good, and healthy! (more on that later)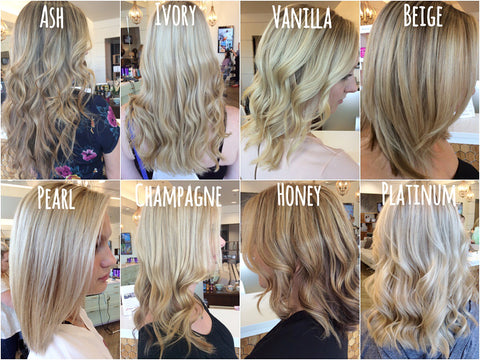 Entering the Blonde Family
Now, after deciding weather or not your ready for the blonde lifestyle, we can talk about how to get there safely, and successfully.
Go to a Pro- Trying to go blonde on your own is a big no no for several reasons. It can cause breakage, and most of the time reveals unwanted brassiness. Always go to a pro who knows how to safely take your hair light without damage, while also preventing those unwanted brassy tones! Like the client shown below, I've seen several attempts of "at home color gone wrong" and it will most definitely save you time and money to go to a professional. (color corrections aren't cheap) Don't be afraid to set up a consultation at your salon, or even a consultation at several different salons to see which one fits you best.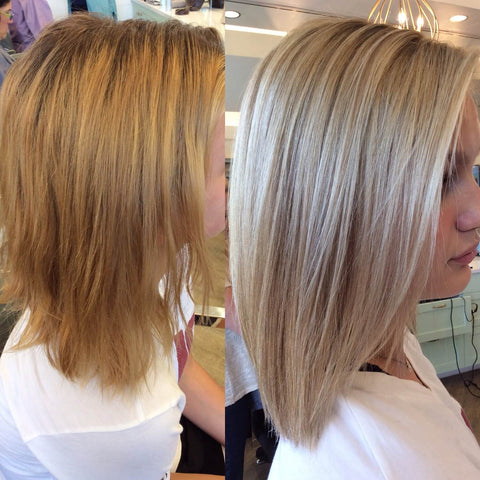 Be Honest- Your stylist will ask you questions about your hair history. We're not doing this for fun, we need to know exactly what was done to your hair previously, as far back as you can remember. Knowing how many times you've put color all over your hair, or how many times you've gone dark to light and then back again, will let us know how easy or difficult it will be to get you light and also tells your stylist which products to use on your hair.
Prepare for your visit- It's never too early to start using good products on your hair to get it in the best possible condition. Weeks prior to your hair appointment, start using a good protein based shampoo and conditioner. Deep Condition the heck out of it. And continue to do this for as long as you live. Or at least while your a blonde. The day of your visit, come with clean, dry hair so your stylist can see your natural color, easily. Sometimes when hair is unwashed, it makes the natural color look darker than it really is because of oils, and build up.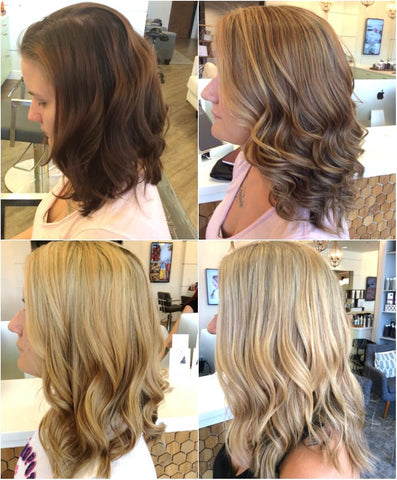 Platinum card means being 90 to 100% blonde. This means every section is in foils. Oddly enough, you go through bleach more than regular color. For color, you might use 4ounces of color. However, bleach oxidizes a lot faster and the hair will soak it up! For a solid platinum, it is multiple step process. Each paper thin section is in a foil, saturated a quarter inch away from the scalp all the way down. Then you go back and do the roots. Most stylists may put you under heat, but I personally don't like doing this. It can cause the hair to over process. So you can't rush bleach, which means it can take 1.5-2 hours to apply and another 1-3 hours to lift. After that, you need to shampoo extra thoroughly because any excess bleach will cause over processing and breakage. Before conditioner, you most likely need to tone. This cancels out any pigments or tones you don't want to see. The toning process can take up to 20 minutes. then again, a double shampoo, this time with a treatment and conditioner.


No part of this process can be rushed. We even include lunch in the appointment. Just be ready to spend hours with your stylist, sit patiently, and believe me, what you pay for is what you get, so don't try to haggle with the person who can control your hair. Good hair ain't cheap and cheap hair ain't good.